"Dexter," Season 5, Episode 3: "Practically Perfect"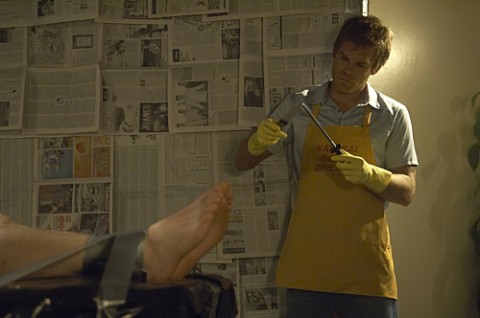 Raise your hand if you hope Quinn gets murdered.
Even before I begin the recap, I have to get that out of the way. Quinn (Desmond Harrington) is no Sgt. Doakes, but his obsession with Dexter (Michael C. Hall) is both kind of out of the blue (he's not that good of a detective) and a lot annoying. And now he's interested in Deb (Jennifer Carpenter) too. Ugh.
Sunday's "Dexter," opens with a hilarious interrogation by Deb. It first seems she's grilling a suspect, but she's really interviewing potential nannies for baby Harrison. She and Dexter decide on a nanny so now the baby can soon fade into the background like television show babies notoriously do.
But before that happens, Dexter takes the baby to a grief counselor. She tells Dexter that Harrison is too young to understand what has happened to his mother. Dexter's relieved and agrees with the counselor's suggestion that he do something for himself.
So he decides to go after the roadkill guy. He sets up an "accidental" meeting with roadkill guy at a restaurant, pretends to be interested in his line of work and soon has plans to go on a ride along the following day. Cut to next day. Dexter had previously prepared kill room and called in a dead alligator close by. So while riding along with Boyd, the alligator call comes in and off they go.
Boyd mentions that alligators are sometimes not dead and he's a "safety guy." This won't be good, I think. And it's not. As Dexter is sedating Boyd, he shoots Dexter with a tranquilizer. Both killers are out cold. They both wake up inside an ambulance and the way they look at each other is hilarious. Dexter is pissed and Boyd is confused and very suspicious. There's an unspoken dual called and it's going to be a fight to the death. I'm really enjoying the Dexter and Boyd dynamic. They could make a whole season out of this and I'd be happy.
Both of them escape from the hospital and it's Dexter, of course, who wins the dual. Dexter kills Boyd in his own house. And just when we think that's it, Dexter hears a noise. Someone else is in the house and they've just seen Dexter murder Boyd. It's Julia Stiles. Not as herself, of course, but as a would-be victim of Boyd's. He'd obviously been holding her captive in his house.
So there's the new plot point for Season 5. She's an innocent victim (we think) who knows Dexter is a killer. How will he deal with that?
Elsewhere, we've got Deb and that police officer investigating some cult killings. I'm not sure where that's heading, but they better make me more interested in it quickly.
We also learn that Batista's (David Zayas) bar fight last week could definitely land him in hot water. And not just with his wife/boss LaGuerta (Lauren Velez). It will be interesting to see what happens if Batista is faced with losing his job and jail time.
Share This Story to Your Friends ---

Dexter' Season 5 Episode 3 recap: Dexter gets back in the game