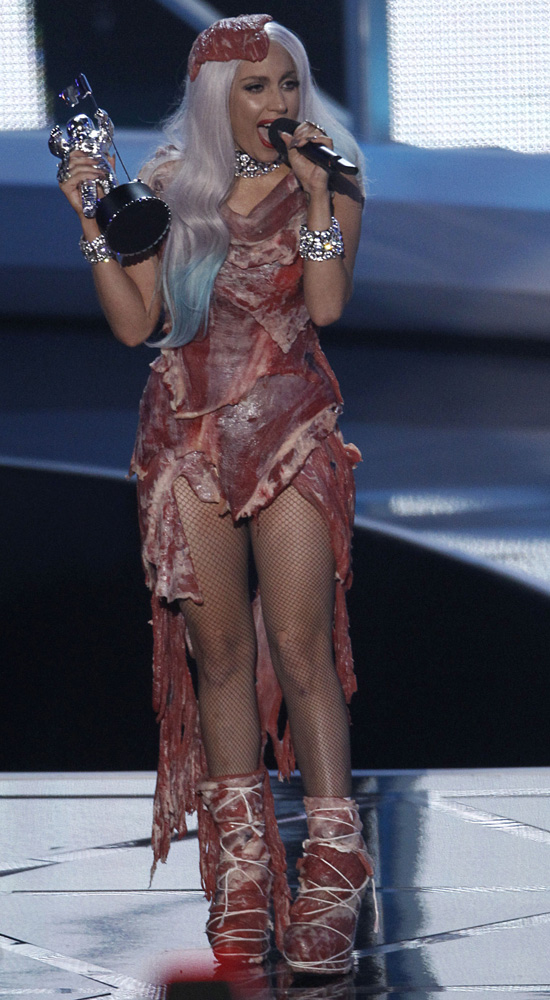 Lady Gaga covered in meat at the 2010 MTV Video Music Awards. OMG.
She won the award for Video of the Year. Cher presented that award and Lady Gaga
hander her her "meat purse" when she accepted the award. She announced that her third album will be titled "Born This Way".
Do you guys know which cut of meat she used? I see some inexpensive flank steaks. Lady Gaga looked almost conservative when she accepted the "Video of the Year" award for "Bad Romance" at the MTV Video Music Awards Sunday night. But when she remarked "I never thought I'd be asking Cher to hold my meat purse," we realized what her get-up (dress, hat, shoes, and purse) was actually made of. Earlier this month, Gaga wore a meat bikini for the cover of Vogue Hommes Japan. @GagaDaily reports the dress was
Share This Story to Your Friends ---

Lady Gaga – Meat Dress – 2010 MTV VMA Video Music Awards