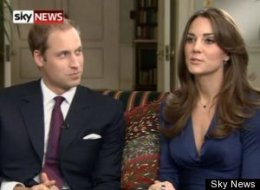 Watch the William and Kate interview video (full interview), where Prince William and Kate Middleton give their first TV interview, answering questions about their engagement and royal wedding plans.
Watch the full William and Kate interview video below; Prince William and Kate Middleton sat down with ITV News' Tom Bradby to give all the details.
Of course, details of Kate Middleton's engagement ring are discussed, with Prince William noting, "It was my way of making sure my mother didn't miss out on today and the excitement, and the fact that we're going to spend the rest of our lives together."
William said of planning the proposal: "[I'd been planning] for a while but as any guy out there will know it takes a certain amount of motivation to get yourself going."
When William and Kate were asked during the interview about being nervous, Prince William responded: "We're like sort of ducks, very calm on the surface with little feet going under the water. It's been really exciting because we've been talking about it for a long time so for us, it's a real relief and it's really nice to be able to tell everybody."
Naturally, the interview questioning turned to asking about when we can expect babies. William and Kate are working on the wedding first!
Watch the William and Kate interview and let us know what you think… are they a well matched pair? Are you looking forward to the royal wedding?
Share This Story to Your Friends ---

Watch William and Kate Interview Video