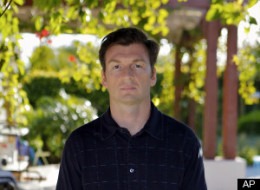 A reality TV producer suspected of killing his wife in Mexico is due in a Los Angeles court Wednesday for the first hearing in what is expected to be a long fight over his extradition.
Federal authorities arrested Bruce Beresford-Redman on Tuesday, more than seven months after his wife Monica's body was found at an upscale Cancun resort.
Mexican authorities want him returned to stand trial on an aggravated homicide charge, although Beresford-Redman has previously indicated through his attorney that he plans to fight extradition.
The family of Monica Beresford-Redman is also expecting a lengthy fight, and their attorney said they are prepared for more months of legal wrangling.
"They know that this is not the end in their quest for justice for their sister Monica and are prepared to pursue this horrific tragedy to the end," attorney Alison Triessl said in a statement.
Without elaborating, Bruce Beresford-Redman's attorney said in a statement Tuesday evening that he believed the former "Survivor" producer was innocent and should not be returned to Mexico.
"Based upon our investigation, he is an innocent man being wrongfully accused by a foreign government," attorney Richard G. Hirsch wrote. "We hope that after full consideration of both sides, a federal court will decide not to extradite him."
An 11-page complaint unsealed after Tuesday's arrest describes a contentious series of events that led to Monica Beresford-Redman's death, including heated fights at a swank Cancun resort where her body was later found in a sewer.
The complaint states she discovered her husband was having an affair before the trip and had been seeking a divorce; her sisters have said the couple traveled to Mexico in an attempt to reconcile.
Share This Story to Your Friends ---

Bruce Beresford-Redman Arrested!