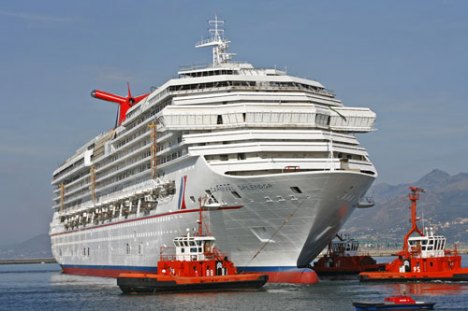 Sitting powerless fifty five miles west of Punta San Jacinto, Mexico, Carnival Splendor's staff and crew are working non-stop to restore power to the ship crippled by an engine room fire Monday. No one was injured aboard the 113,000-ton ship -- which is carrying 3299 passengers and 1167 crew.
According to The Los Angeles Times, tugboats are expected to arrive in mid-afternoon and will tow the ship back to Ensenada, Mexico, where passengers will disembark and be flown home.
The U.S. Navy plans to deliver 70,000 pounds of bread, canned milk and other food to the ship. The supplies are being flown from North Island Naval Air Station in Coronado to the aircraft carrier Ronald Reagan. The carrier's helicopters will then transfer the supplies to the cruise ship".
Carnival president and CEO Gerry Cahill said "Conditions on board the ship are very challenging and we sincerely apologize for the discomfort and inconvenience our guests are currently enduring", and, he admitted that it was "an extremely trying situation."
While their vacation turned into a dreadful situation, passengers will get a full refund, which also covers transportation costs plus credit for a future cruise.
Share This Story to Your Friends ---

Carnival Cruise Ship Sits Powerless at Sea After Fire