In between his attempts to conquer the world (and box-office), MegaMind will turn his attention to social networking.
The character from the upcoming DreamWorksDreamWorks movie of the same name will stake his claim in the popular Facebook game Farmville later this week. Voice by Wil Farrell, MegaMind will invade the popular game for 24 hours Thursday.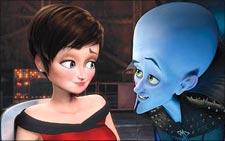 It's all to promote the release of the film Friday.
Those who visit Megamind's farm will encounter characters and story points from the movie and can acquire two special items: a "Mega-Grow" formula that grows crops instantly without wilting and a collectable decorative item for players to feature on their own farms.
"FarmVille's extraordinary reach in the social media and gaming space is unparalleled and we are thrilled to work with ZyngaZynga to bring Megamind into their online world," said DreamWorks Animation's Anne Globe in the announcement.
Share This Story to Your Friends ---

MegaMind Invades FarmVille